Bringing the Band Back Together
With marching band and indoor performances on suspension due to COVID-19, the Apopka Band still finds opportunities to make music and preserve school spirit. In an effort to keep the warmth of the marching band alive amidst the pandemic, they have continued the Pep Band, a small pop-up group that captures the essence of the full band at events such as football games and pep rallies.
Without the presence that the marching band delivers in the stands and on the field, the rich energy at the heart of our football games is jeopardized. To offset this reality while ensuring the safety of Pep Band members and our community, the once shoulder to shoulder group is now reduced in capacity and distanced by markers that are six feet apart. Members are also required to have fabric coverings over the end of their instruments and to wear a mask when not playing.
Even though some of the band has been reinvigorated, the threat of COVID-19 is still very real, particularly in Central Florida. It accounts for over 16% of the cases statewide and over 16% of the deaths. Students are adamant on staying on top of the Friday night mandates to ensure safety and reduce the possibility of their removal, something that's required a few corrections during the drills.
"The most challenging part is keeping physical distance from each other. The band program is a family," explained head drum major Kentrie Tran. "Before, members would give each other high-fives for encouragement or hugs as signs of appreciation… Now, those are the things we've been cautious about."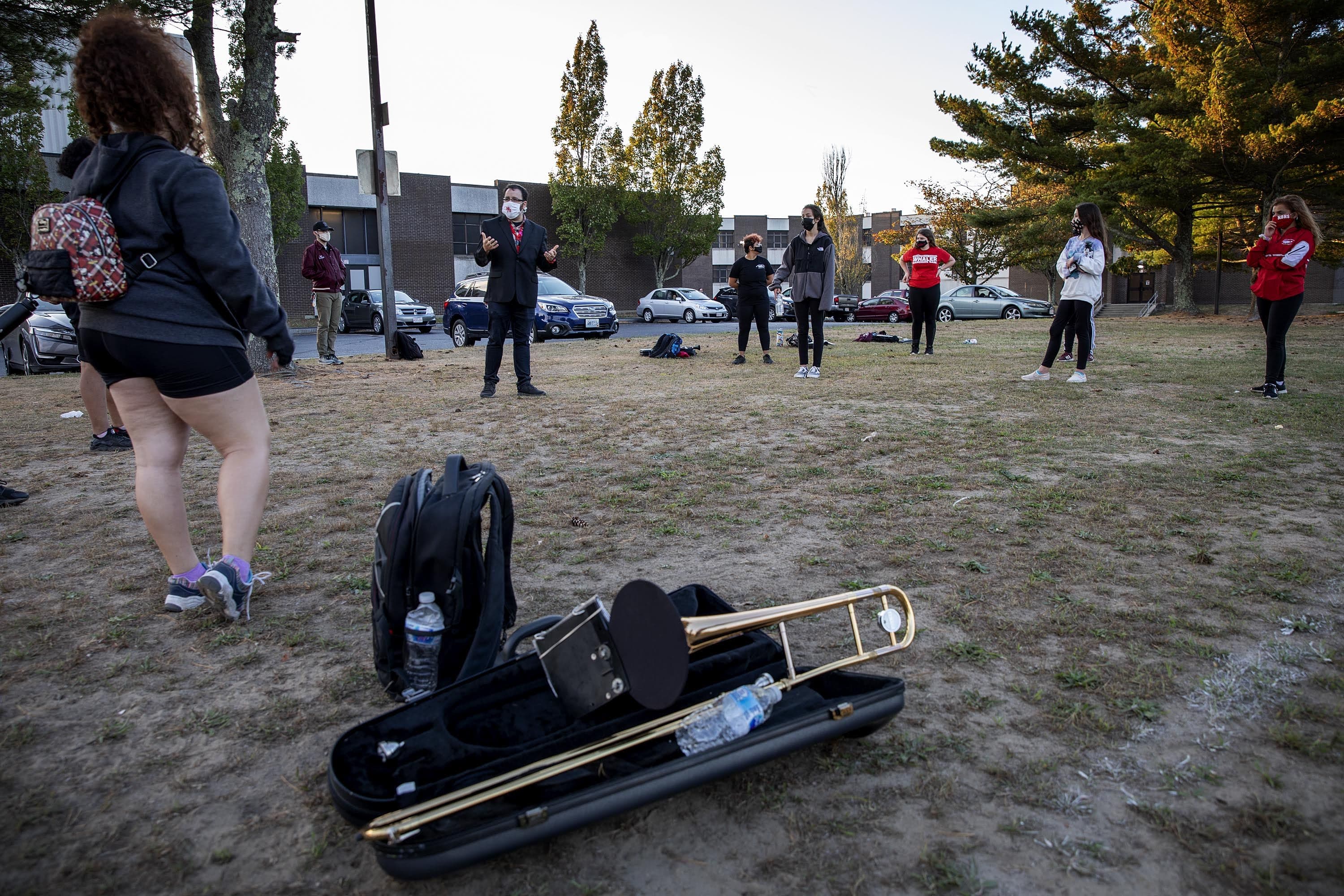 In spite of these cumbersome modifications, many anticipate the promising hope the future holds.
"I'm most looking forward to the potential of going back next school year so I can play my concert instruments again; I miss them," percussionist Julian Daleiden laments. Like Julian, many students who play large school-owned instruments, such as marimbas, face the detriment of not being able to practice at home.
"I'm looking forward to seeing what the freshmen in band are going to accomplish this year and how much they'll grow," Kentrie adds. For first year band members, their initial impressions have been exceedingly unlike those of veteran members since they did not undergo the full marching band experience.
All things considered, everyone appears to be in agreement that the inconvenience is more than worth the opportunity to play together again.Although there are plenty of difficult modifications to this season's band practice, some things will never change: like ending practice with our alma mater — sung at a social distance, of course. Along with the reminder: In everything give your best.